SHARK Week: Shark n' Awe Arrives on DVD May 9 at Walmart from Lionsgate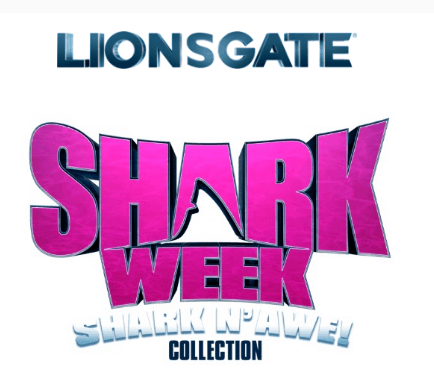 Shark Week Arrives on DVD May 9 at Walmart from Lionsgate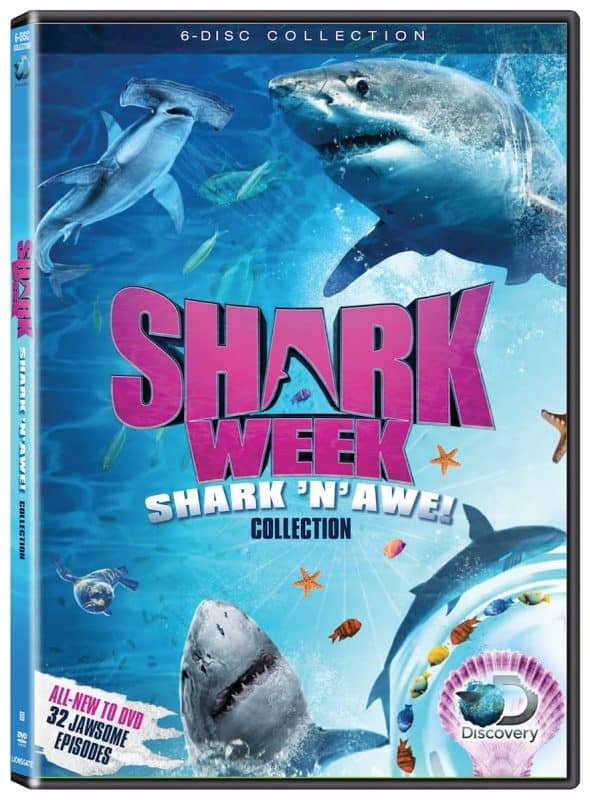 PROGRAM DESCRIPTION
Spanning the waters from Florida to Taiwan, join Discovery Channel for its most celebrated event of the year when the Shark Week: Shark 'n' Awe Collection arrives at Walmart on DVD May 9 from Lionsgate Home Entertainment. Dive in with renowned scientists and marine biologists from across the globe and catch up on some of the most jawsome shark stories ever told before Shark Week 2017 arrives. Discover Great Whites in unexplored seas, unravel the mysteries of repeated shark attacks, and gain new insights to some of the world's most majestic and oldest living creatures. Featuring 32 episodes on 6 discs, uncover the depths of Shark Week: Shark 'n' Awe Collection, available on DVD for the suggested retail price of $19.98.
OFFICIAL SYNOPSIS
Shark Week is back, making a huge splash with all-new, compelling and jaw-dropping shark stories and shark technology. Working with the most respected marine biologists and science institutions, Shark Week: Shark 'n' Awe Collection highlights some of the most recent breakthroughs and developments that have led to remarkable new insights into these magnificent creatures.
PROGRAM INFORMATION
Year of Production: 2015–2016
Title Copyright: Program Content and Package Artwork © 2016 Discovery Communications Inc. Package Design and Summary © 2017 Lions Gate Entertainment Inc. All Rights Reserved.
Type: TV-on-DVD
Rating: TV-14
Genre: Documentary
Closed Captioned: English
Subtitles: N/A
Feature Run Time: 1374 Minutes
DVD Format: 16×9 Widescreen 1.78:1 Presentation
DVD Audio Status: English 2.0 Dolby Digital Audio
ABOUT LIONSGATE
Lionsgate (NYSE: LGF.A, LGF.B) is a vertically integrated next generation global content leader with a diversified presence in motion picture production and distribution, television programming and syndication, premium pay television networks, home entertainment, global distribution and sales, interactive ventures and games and location-based entertainment.
With the acquisition of Starz, Lionsgate adds to its portfolio of businesses the flagship STARZ premium pay network serving 24.3 million subscribers and the STARZ ENCORE platform with 31 million subscribers. The combined company will operate five over-the-top (OTT) streaming services and the STARZ app delivering content directly to consumers.
The Company's feature film business spans eight labels and includes the blockbuster The Hunger Games franchise, the Now You See Me series, the box office blockbuster La La Land, which won six Academy Awards®, the hit franchise sequel John Wick: Chapter Two, double Oscar winner Hacksaw Ridge, Tyler Perry's Boo! A Madea Halloween, The Shack, CBS Films/Lionsgate's Hell or High Water, Roadside Attractions' critically-acclaimed Manchester by the Sea, Codeblack Films' breakout concert film Kevin Hart: Let Me Explain and Pantelion Films' Instructions Not Included, the highest-grossing Spanish-language film ever released in the U.S.
One of the largest independent television businesses in the world, Lionsgate's slate of premium quality series encompasses nearly 90 shows on more than 40 different networks. These include the ground-breaking Orange is the New Black, the fan favorite Nashville, the syndication success The Wendy Williams Show, the hit drama The Royals, the acclaimed Casual, the breakout success Greenleaf and hit STARZ series including Outlander, Black Sails, Survivor's Remorse and Power, the second highest-rated premium pay television series of 2016.
Lionsgate's home entertainment business is an industry leader in box office-to-DVD and box office-to-VOD revenue conversion rates. Lionsgate handles a prestigious and prolific library of more than 16,000 motion picture and television titles that is an important source of recurring revenue and serves as a foundation for the growth of the Company's core businesses. The Lionsgate, Summit Entertainment and Starz brands are synonymous with original, daring, quality entertainment in markets around the world. www.lionsgate.com