Now You See Me 2 Coming 9/6 + Review
Now You See Me 2 is especially great after seeing Now you See Me
Have you seen Now You See Me (the first one?) If you are a fan of the first "Now You See Me" movie, you will really enjoy this follow-up. It is definitely a movie where you should have seen the first one in order to follow along properly and understand the characters.
Picking up where the first film left off, the Horsemen are in hiding but emerge with a new plan. Things are not as they seem, of course, and the plot takes off from there.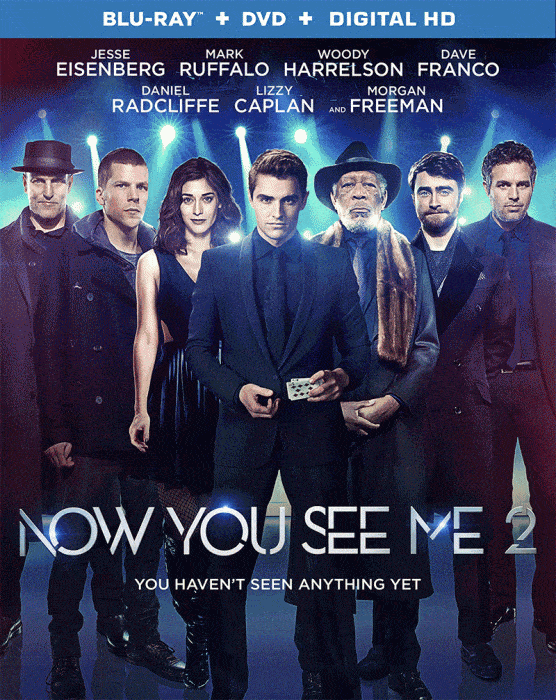 The cast is bigger, but the acting is great. I was skeptical with the loss of Isla Fisher, but Lizzy Caplan brings her own character into the story, and she is a welcome addition. I didn't feel like she was just a replacement for the female lead, but a very likable and important part of the team in her own right. Daniel Radcliff brings his own new character into play and performs the heck out of it.
The effects are spectacular, and the twists are impressive, as you would expect.
I highly recommend this movie, but only if you've seen the first.

THE FOUR HORSEMEN REAPPEAR FOR ANOTHER MIND-BLOWING ADVENTURE 
Available on Digital HD August 19 and on 4K Ultra HDTM Combo Pack, Blu-rayTM Combo Pack and DVD September 6 from Lionsgate 
SANTA MONICA, CA (July 19, 2016) – The Four Horsemen are back for a second act to pull off their most impossible heist yet as they try to clear their names in Now You See Me 2,  arriving on Digital HD August 19 and on 4K Ultra HD Combo Pack (plus Blu-ray and Digital HD), Blu-ray Combo Pack (plus DVD and Digital HD) and DVD (plus Digital) September 6 from Lionsgate's Summit Entertainment label. The star-studded follow-up to the multimillion-dollar box-office hit features Jesse Eisenberg (The Social Network), Mark Ruffalo (The Avengers), Woody Harrelson (The Hunger Games franchise), Dave Franco (Nerve), Daniel Radcliffe (Harry Potter franchise), Lizzy Caplan (Cloverfield), Jay Chou (The Green Hornet), Sanaa Lathan (Repentance) with Michael Caine (The Dark Knight) and Morgan Freeman (The Shawshank Redemption).
The Four Horsemen (Eisenberg, Harrelson, Franco, Caplan) return for a second mind-bending adventure, elevating the limits of stage illusion to new heights and taking them around the globe. One year after outwitting the FBI and winning the public's adulation with their Robin Hood-style magic spectacles, the illusionists resurface for a comeback performance in hopes of exposing the unethical practices of a tech magnate. The man behind their vanishing act is none other than Walter Mabry (Radcliffe), a tech prodigy who threatens the Horsemen into pulling off their most impossible heist yet. Their only hope is to perform one last unprecedented stunt to clear their names and reveal the mastermind behind it all.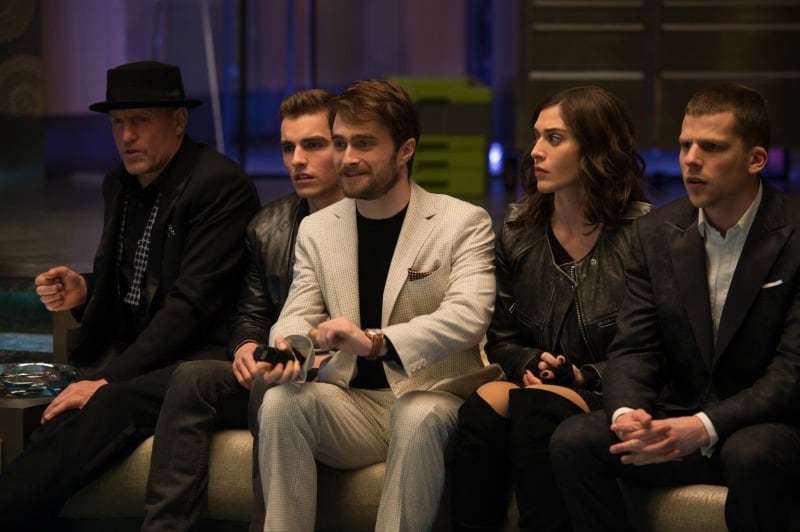 The Now You See Me 2 Blu-ray Combo Pack and Digital HD release will include audio commentary by the director and three behind-the-scenes featurettes looking at the creation of the magic in the film, and discussions with the cast and crew about their work in developing and mastering the magic tricks seen in the film. The Blu-ray Disc of this movie will feature a Dolby Atmos® soundtrack remixed specifically for the home theater environment to place and move audio anywhere in the room, including overhead. The Now You See Me 2 DVD will include audio commentary with the director and one behind-the-scenes featurette. Now You See Me 2 will be available on 4K Ultra HD Combo Pack, Blu-ray and DVD for $42.99, $39.99 and $29.95, respectively. Lionsgate will also be launching a Now You See Me hidden object game in partnership with SideKick VR, which will be available on mobile devices including mobile VR headsets from Samsung, Google, and others.
BLU-RAY/ DIGITAL HD SPECIAL FEATURES*
Audio Commentary by Director Jon M. Chu
"The Art of the Ensemble" Featurette
"You Can't Look Away" Featurette
"Bringing Magic to Life" Featurette
*Subject to change
DVD SPECIAL FEATURES*
Audio Commentary by Director Jon Chu
"You Can't Look Away" Featurette
*Subject to change
You can purchase NYSM2 on Amazon
Disclosure: This post may contain affiliate links which have been disclosed for any links that take you to Amazon in the footer of my website on all pages.
I received a copy of Now You See Me 2 in exchange for my honest review.  All opinions are my own.