THE GOSPEL OF MARK – Available on DVD|Digital HD 3/14
Arriving on DVD at Walmart, Digital HD and On Demand March 14  The Gospel of Mark
My family is religious in the fact that we believe in Jesus and God's word. I love The Gospel of Mark because it is a word-for-word unedited movie adaptation. Jesus did some miraculous things in His day and continues to do amazing things! I'm blown away by what he did while he was on earth.
He did miracles such as healing people. He prayed with people and loved on everyone. He had no problem spreading the good news and that's exactly what He did. Jesus continues to walk with us from his throne in heaven!
I LOVED The Gospel of Mark and I know you will too! It's out on DVD so make sure you grab it!
PROGRAM DESCRIPTION
Following last year's The Gospel of John comes the second installment in the renowned Gospel film series, The Gospel of Mark, arriving on DVD at Walmart, Digital HD and On Demand March 14 from Lionsgate. Just in time for Easter, the second book of The New Testament comes to life for the first time with a truly unique, word-for-word adaptation that uses the Gospel narrative as its script. Shot on location in Morocco with consultation from expert theologians and biblical scholars and produced by the Lumo Project, the film was given the Dove Faith Friendly Seal for 12+. The Gospel of Mark DVD is packed with behind-the-scenes bonus features and will be available for the suggested retail price of $14.98.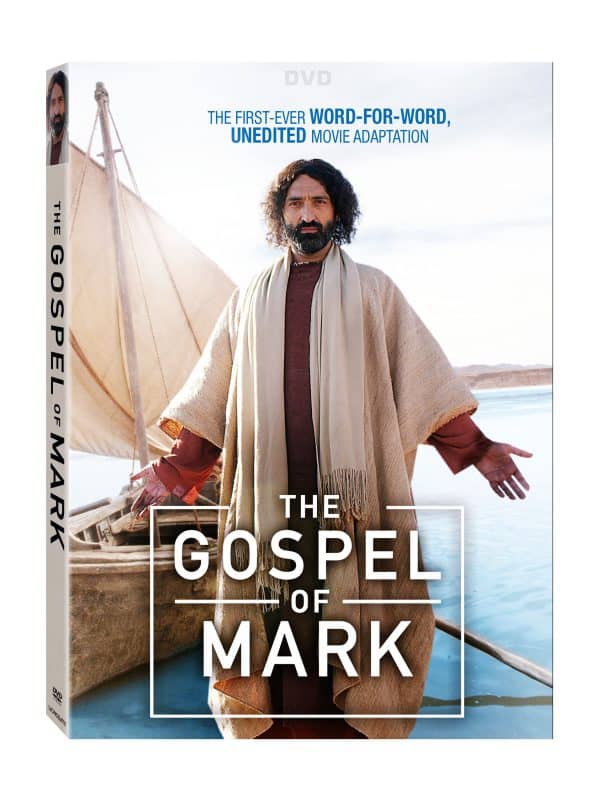 OFFICIAL SYNOPSIS
According to The Gospel of Mark, Jesus is a heroic man of action, an exorcist, healer, and miracle worker — the Son of God who keeps his identity secret. This critically acclaimed, epic production — five years in the making — is based on the latest theological, historical, and archaeological research, and offers an unforgettable, highly authentic telling of the Jesus story — ending with the empty tomb, a promise to meet again in Galilee, and Jesus's instructions to spread the good news of the resurrection.
DVD/DIGITAL HD SPECIAL FEATURES
"Deconstructing a Scene" Featurette
"Building Jerusalem" Featurette
"Composing the Gospels" Featurette
"Filming the Gospels" Featurette
"Narrating the Gospels" Featurette
PROGRAM INFORMATION
Year of Production:  2016
Title Copyright: Program Content and Package Artwork: © 2016 Toy Gun Films, Inc. All Rights Reserved. Package Design and Summary: © 2017 Lions Gate Entertainment Inc. All Rights Reserved.
Type: Home Entertainment Premiere
Rating: Not Rated
Genre: Religion, Drama
Closed-Captioned: N/A
Subtitles: New International Version (Spanish Subtitles and English SDH), King James Bible (English SDH)
Feature Run Time: 123 Minutes
DVD Format: 16×9 Widescreen 1.78:1 Presentation
DVD Audio: New International Version (English 5.1 Dolby Digital Audio), The King James Bible (English 5.1 Dolby Digital Audio)
ABOUT LIONSGATE
Lionsgate is a premier next generation global content leader with a diversified presence in motion picture production and distribution, television programming and syndication, home entertainment, international distribution and sales, branded channel platforms, interactive ventures and games, and location-based entertainment.  The Company has nearly 80 television shows on 40 different networks spanning its primetime production, distribution and syndication businesses.  These include the ground-breaking hit series Orange is the New Black, the fan favorite drama series Nashville, the syndication success The Wendy Williams Show, the hit drama series The Royals, the Golden Globe-nominated dramedy Casual and the breakout success Greenleaf.
The Company's feature film business spans eight labels and includes the blockbuster Hunger Games franchise, the Now You See Me and John Wick series, Tyler Perry's Boo! A Madea Halloween, Nerve, CBS Films/Lionsgate's Hell or High Water, Sicario, Roadside Attractions' Love & Mercy and Mr. Holmes, Codeblack Films' Addicted and breakout concert film Kevin Hart: Let Me Explain and Pantelion Films' Instructions Not Included, the highest-grossing Spanish-language film ever released in the U.S.
Lionsgate's home entertainment business is an industry leader in box office-to-DVD and box office-to-VOD revenue conversion rates.  Lionsgate handles a prestigious and prolific library of approximately 16,000 motion picture and television titles that is an important source of recurring revenue and serves as a foundation for the growth of the Company's core businesses. The Lionsgate and Summit brands remain synonymous with original, daring, quality entertainment in markets around the world.