A Ghost Story- My Review * No Spoilers*

Disclosure: I received a copy of A Ghost Story in order to facilitate my review. All opinions are my own.
My review of A Ghost Story
After watching Manchester by the Sea I was very excited to see this movie with Casey Affleck in it.  Although the last movie was a bit different I was able to enjoy the story.  With A Ghost Story, I just can't even.
Normally my husband and I have a 20-30 minute rule which is if at that time we can't get into the movie we have the option to stop watching it.  Since this was a review he felt we should watch it until the end.  First of all the 'ghost' with the eye cut-outs seemed so odd.
We couldn't hear the conversations at first and I am not sure if it was because of the Blu-ray itself or how they wanted it to be.  I don't want to give the story away but honestly for the longest time there was no real conversation.  I kept thinking that the ghost really had an easy part as he just stood there.
Normally I do not like to give a negative review but this one I give not one thumb up.  If you can get it from a friend or win a copy then, by all means, try it out.  Possibly you will find something that I missed but, when it was over I was relieved and yet looked at my husband and said hmmm….
As it says below " a beautifully intimate romance"…. I think either I got the wrong movie or I just missed the whole romance part of it.  But I will say I did enjoy the music.
If you decide to watch it let me know what you think…. I would love to know what exactly I missed because I was really hoping I would love this movie.
A Beautifully Intimate Romance Starring Academy Award® Winner Casey Affleck and Academy Award® Nominee Rooney Mara Arrives on Blu-ray™ and DVD on October 3
SANTA MONICA, CA – Written and directed by critically acclaimed filmmaker David Lowery (Ain't Them Bodies Saints, Pete's Dragon), and boasting a top-notch cast including Academy Award® winner Casey Affleck (Best Actor, Manchester by the Sea, 2016) and two-time Academy Award® nominee Rooney Mara (Best Supporting Actress, Carol, 2015 and Best Actress, The Girl with the Dragon Tattoo, 2011), A Ghost Story arrives on Blu-ray™ (plus Digital HD) and DVD October 3 from Lionsgate. A24 debuted A Ghost Story to critical acclaim at the 2017 Sundance Film Festival, with reviewers calling it "a poetic meditation on time, memory and spiritual connection" (David Rooney, The Hollywood Reporter).
Academy Award® winner Casey Affleck and Rooney Mara star as a young couple who — after being separated by loss — discover an eternal connection and a love that is infinite.
Featuring an audio commentary, two never-before-seen featurettes, and a deleted scene, the A Ghost Story Blu-ray and DVD will be available for the suggested retail price of $24.99 and $19.98, respectively.
BLU-RAY / DVD SPECIAL FEATURES
Audio Commentary with Director David Lowery, Cinematographer Andrew Droz Palermo, Production Designer Jade Healy, and Composer Daniel Hart
"A Ghost Story and the Inevitable Passing of Time" Featurette
"A Composer's Story" Featurette
Deleted Scene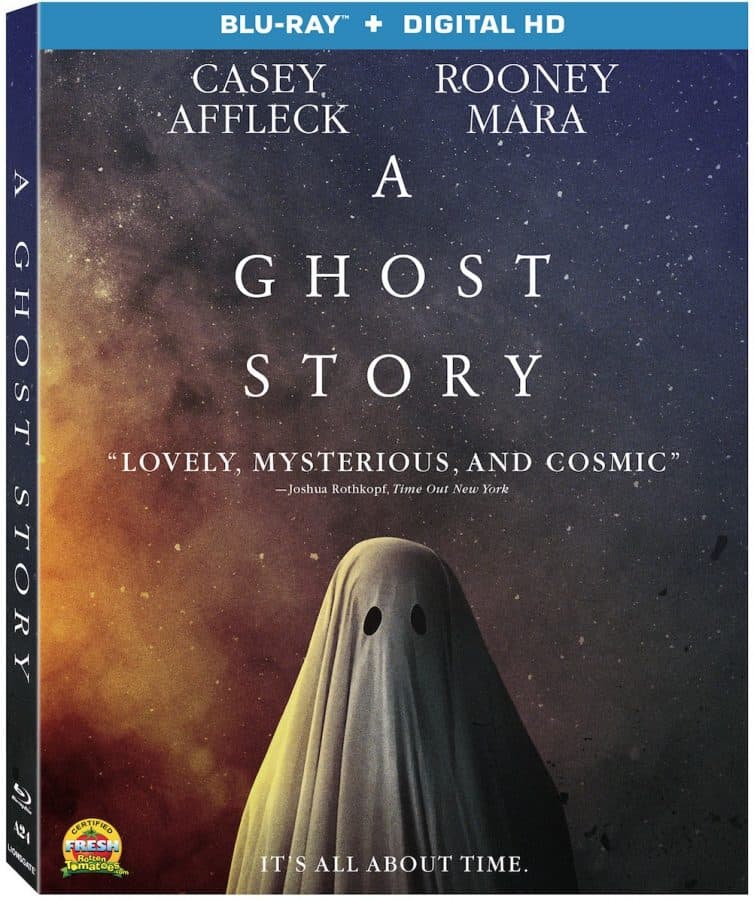 For Artwork: www.lionsgatepublicity.com/home-entertainment/aghoststory/
Trailer: https://youtu.be/5byKIzwXWRg
Facebook: @GhostStoryMovie
Instagram: @GhostStoryMovie
Twitter: @GhostStoryMovie
PROGRAM INFORMATION
Year of Production:  2017
Title Copyright: A Ghost Story © 2017 Scared Sheetless, LLC. All Rights Reserved.
Type: Theatrical Release
Rating: R for brief language and a disturbing image.
Genre: Drama
Closed-Captioned: English
Subtitles: Spanish, English SDH
Feature Run Time: 92 minutes
Blu-ray™ Format: 1080p High Definition 16×9 Widescreen 1.89:1 Presentation, Containing a 1.33:1 Viewing Image with Rounded Edges
DVD Format: 16×9 Widescreen 1.89:1 Presentation, Containing a 1.33:1 Viewing Image with Rounded Edges
Blu-ray™ Audio: English 5.1 DTS-HD Master Audio™
DVD Audio: English 5.1 Dolby Digital Audio