Get a WindPouch Lite Inflatable Hammock for the Holidays

What is easy to inflate, easy to store and could be your comfy new friend? The WindPouch Lite!
Imagine yourself laying in a hammock with a slight breeze, your favorite drink in your hand and not having to deal with all of the impressions on your skin from the hammock ropes.
With the inflatable hammock, you no longer have to worry about this!  It only weighs 2.6 pounds and the Lite is the lightest inflatable hammock ever.  There is no pump required and it inflates in seconds.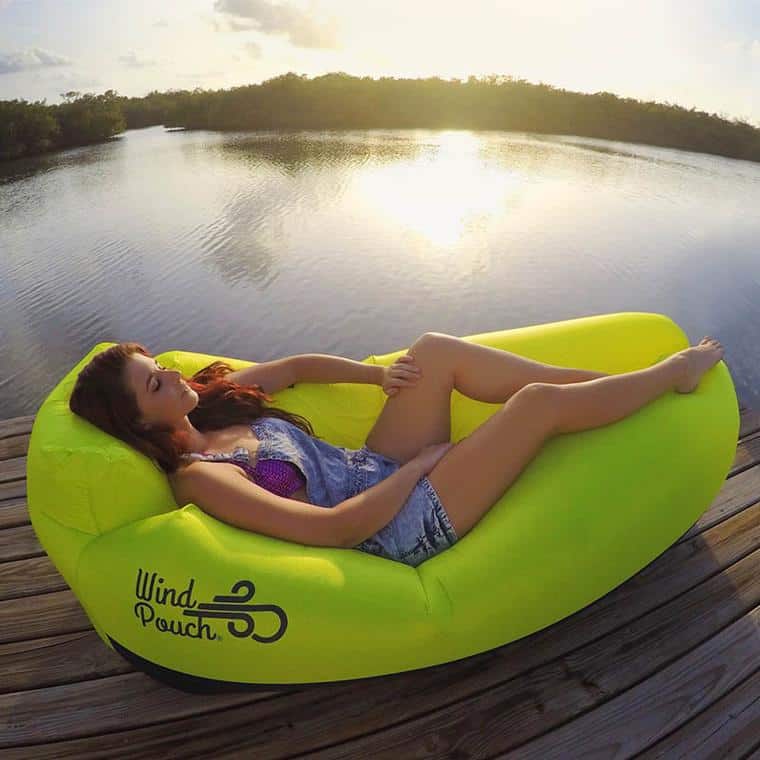 About the WindPouch Lite Inflatable Hammock
It is made with durable Poly-HEX™ hexagonal ripstop polyester and features their exclusive pop-up comfort headrest which will give you added neck and head support.  You will want to take this to the lake, beach, park, concerts or even sporting events.  If you want a comfortable seat the WindPouch Lite can be your everyday friend.  I mean who can't use an extra comfy new friend?
These come in 4 color choices which you can find on their website.
Important Specs that you should know about the WindPouch Lite:
-Poly-HEX™ hexagonal polyester ripstop shell.
-WindLock™ Technology creates a leak resistant seal to retain air for up to 6 – 8 hours of relaxation time.
-Reinforced seams and triple stitching, supports up to 450 lbs.
-Exclusive wedge pillow headrest design.
-High tensile strength webbing and locking buckle.
-Poly-HEX™ carrying case with shoulder strap.
-Lightweight portability. Product weight with accessories: 2 lbs 6 oz
-Product length: 88 in / 224 cm .
–Limited lifetime warranty.
–WARNING: Not recommended for use in water. This is not a floatation device or toy. So no this is not to be used to float around on the water or be expected to keep you afloat if you find yourself lost at sea.
About the makers of the WindPouch
After reading about the makers of the WindPouch on their website the first thing I could think of is adventurers!  Reading about them talking about all of the uses for the pouch I could imagine they experienced it and wish I could just be out hiking and get out my WindPouch to sleep on for the night.  It is definitely something that can make you wonder where something like this has been for all of the other adventure seekers.
"Today, the world is changing faster than ever. We're hyperconnected through social media, email, and mobile devices, yet we're also more isolated, spending more time inside and much less time outdoors with others exploring and appreciating the beauty of the world around us." -from the WindPouch website
Visit Windpouch on their social media:
Facebook | Twitter | Pinterest | Instagram | Vimeo  | Website
How to Set-up Video