Christmas in July with Strawberry Shortcake

*Disclosure*:  I am a brand ambassador for Strawberry Shortcake and have a working relationship with them, however, all opinions are 100% my own.
There's something about the holidays that makes us nostalgic for our childhoods—the excitement and anticipation we felt as the holidays approached, our early morning wake-ups, and our wide-eyed wonder. Classic Strawberry Shortcake is part of that nostalgia, too…so it's a perfect match to celebrate Christmas (in July!) with an adorable pair of classic Strawberry ornaments and a sweet vintage t-shirt.
When I think of Strawberry Shortcake I think of the mornings my sister woke up all excited.  She was always wondering about what characters Santa had brought her that year.  Her birthday was 15 days before Christmas so whatever she hadn't received then, she was hoping for on Christmas morning. Such wonderful memories.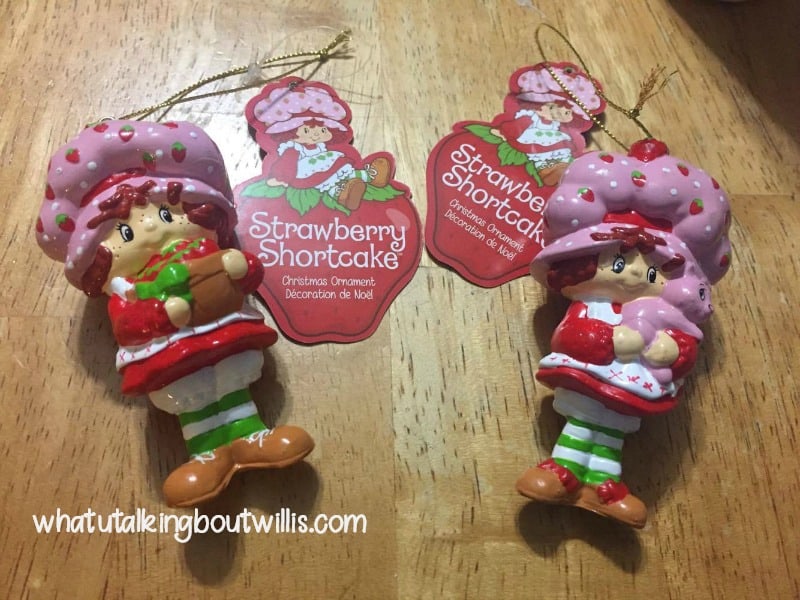 The 3.5-inch blow-mold ornaments will bring sweetness and fun to any Christmas tree—and the sparkles in her eyes will brighten the season for the entire family.
Available for the holiday season here.
About Strawberry Shortcake:
The original design of Strawberry Shortcake and her cat, Custard, was done in 1979 by Muriel Fahrion during her time as a greeting card illustrator at American Greetings' Juvenile & Humorous card department.  Fahrion then designed a subsequent 32 characters.  (American Greetings' toy & licensing design division).
In 1979, toy manufacturer, Kenner Products, licensed the character and released the first Strawberry Shortcake doll.  At the time, Strawberry Shortcake resembled a typical rag doll, complete with freckles, a mop of red yarn curls, and a bonnet with strawberry prints on it. Cindy Mayer Patton and Janet Jones designed the other later characters of the classic Strawberry Shortcake line. Lynn Edwards was the editor of the line and developed the personality profiles as well as the story line and philosophy. The first doll was a rag doll designed by Muriel Fahrion and created by Susan Trentel, Fahrion's sister.
The Strawberry Shortcake line of characters each had their own fruit or dessert-themed name with clothing to match, and they each had a dessert- or fruit-named pet. Like the Strawberry Shortcake doll, all the other characters' dolls had hair scented to match their dessert theme. The characters lived and played in a magical world known as Strawberryland.
Be sure to get social with her on Facebook, Twitter, and Instagram too! Also if you want to brighten your mood for Christmas in July you can sample the songs and purchase the music on iTunes.
Hungry?? Whip up an Apple Cider Scones Recipe or Shortcake Donut Recipe!