1byone for Your Tech Accessory Needs + Much More

I just love 1byone.  They have so many great items, especially if you are a tech lover like I am.  Over a year ago I got an LG pad when my daughter got her iPhone 6, you know, one of those for 99 cents you get this etc.  The problem I had was when I took it on a trip or two I couldn't use it like I did with my laptop.  So it felt awkward to me. I tried getting a little keyboard but it had very tiny keys and I had to connect it to use it. Again, awkward.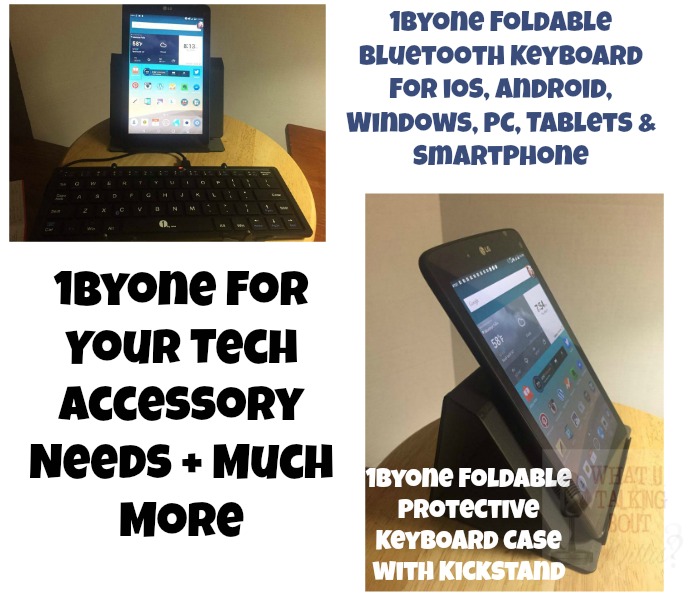 Then I found www.1byone.com.  They have so many cool things.  From TV accessories to Home Security and many things in between. My latest love is their Bluetooth foldable keyboard and iPhone/tablet stand.
First off, the keyboard.  It folds in thirds and turns on when you unfold it.  It also comes with a USB connector to charge it either with your computer or if you have a plug with a USB connector.  So either way, it is easy to charge.   It was so easy to pair/connect with my LG pad.  Instantly I was able to use it and I didn't have to be wire connected in order to do so.  It will be easy to take along with me as it will fit nicely in my purse or tucked away in my luggage.
Then there is the 1byone Foldable Protective Keyboard Case.  Honestly, when I offered to review it I just saw that it would allow an iPhone or my LG Pad to sit on it.  I didn't realize it was for a keyboard storage.  It is sturdy enough to hold my iPhone horizontally or vertically, as well as my LG pad. It also is great to use with the foldable keyboard. I will tell you a bit about them below.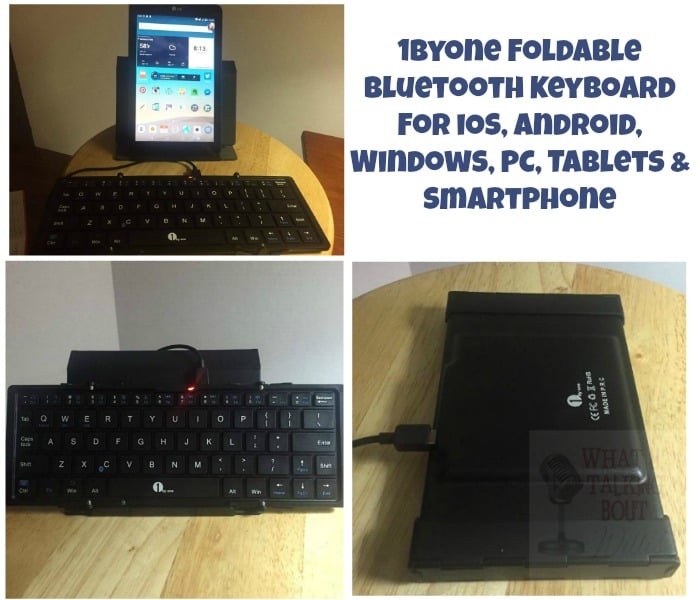 Tri-fold Design
Tri-fold design,making it convenient to carry.Magnetic power on/off design,easy and flexible to operate.
Support Any Bluetooth-enabled devices
Support systems:Windows,Mac/IOS,Android,Tablet PC,Smart Phone,enabling you to match with any Bluetooth-enabled devices.
Built-in Rechargeable Lithium Battery
Built-in 210mAh lithium battery keeps the keyboard going through 64 hours of continuous use.
Ultra Slim Design
Sleek profile,easy to transport,work and play anywhere anytime.Stainless steel back panel ensures good feel and sturdy quality.
Please note that this does not work with Win 8 mobile and for Android 4.4 users: The Caps Lock indicator may not light, but will still function normally.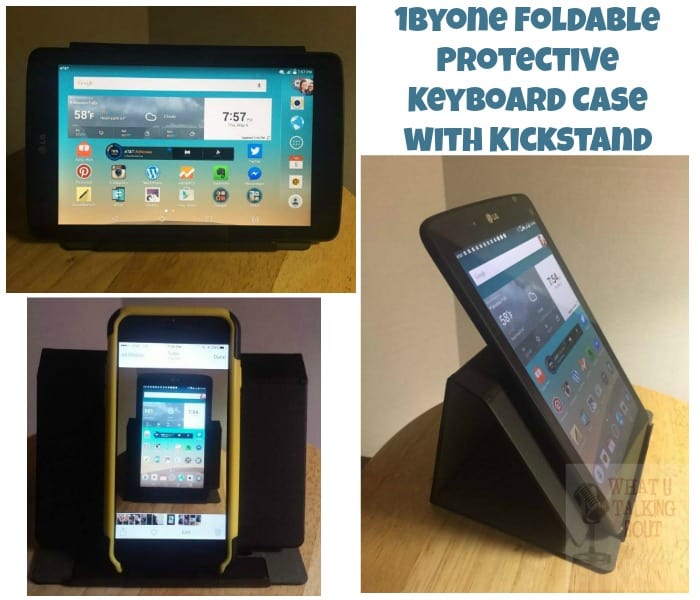 Good looking and sturdy quality, a perfect choice for your delicate folding Bluetooth keyboard. And it can both protect your device and serve as a great stand.
Ultra-Slim Design
Delicate design and state-of-the-art materials make this protective case amazingly thin and light.
Compatible Modes
The extendable slot holds your smartphone or Ipad in portrait or landscape mode. It can both protect your device and serve as a great stand.
Structurally Stable
Two fixed holders keep the Bluetooth keyboard firmly secured in the protective case. They're designed to prevent the keyboard from accidentally slipping out of the case.
If you are someone that loves tech gadgets as well as accessories to compliment your gadgets you will want to visit 1byone!
Follow them on their Social Media:
Facebook | Twitter | G+ | YouTube | Website | Amazon Store
Disclosure:  I was not compensated for this post. However, I did receive a products from the company above and the opinions expressed in this post are 100% my own. I am disclosing this in accordance with the FTC guidelines.