AIR BOUND arrives on DVD, Digital HD and On Demand 2/21
Here Comes Air Bound
Share the charming tale of friendship, teamwork, and perseverance with the whole family when this movie arrives on DVD, Digital HD and On Demand February 21 from Lionsgate Home Entertainment.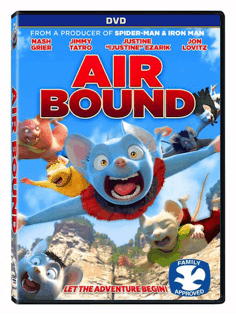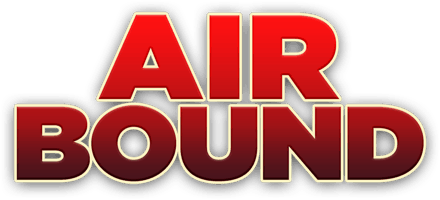 PROGRAM DESCRIPTION
Join a big-city mouse on a big mission to save his friends from evil weasels when
Air Bound
arrives on DVD, Digital HD and On Demand
February 21
from Lionsgate. A producer of
Spider-Man
and
Iron Man
shares this charming tale that celebrates friendship, perseverance, and teamwork. Awarded the Dove Foundation's seal of approval, the film stars YouTube sensations Nash Grier (4.8MM subscribers), Jimmy Tatro (2.6MM subscribers), and Justine "iJustine" Ezarik (3.2MM subscribers), along with comedian Jon Lovitz. Including four bonus episodes from TV's "Minuscule" and featuring a "Bringing Characters to Life" featurette, the
Air Bound
DVD will be available for the suggested retail price of $19.98.
OFFICIAL SYNOPSIS
Dreaming of adventure, city mouse Gavin and his buddy Matthew join a crew of Ship Mice ready to set sail — just as young Chester bursts in, pleading for help. Stowing away on a boat, the gang heads for Dream Island to defend Chester's family of mice against Winston the White Weasel (Jon Lovitz) and his wicked weasel clan. But is their courage enough?
DVD/DIGITAL HD SPECIAL FEATURES
"Bringing the Characters to Life: At the Recording Studio with John Lovitz, Justine "iJustine" Ezarik, Nash Grier, and Jimmy Tatro" Featurette
TV's "Minuscule" Bonus Episodes

"Ladybugs"
"No Luck"
"Caterpillars in Paris"
"Shellproof Nut"
CAST
Nash Grier                               YouTube's "Nash Grier," The Outfield
Jimmy Tatro                            YouTube's "LifeAccordingToJimmy," Boo! A Madea Halloween
Justine "iJustine" Ezarik         YouTube's "iJustine," The Wedding Ringer
Jon Lovitz                                Hotel Transylvania 2, Grown Ups 2
PROGRAM INFORMATION
Year of Production: 2015
Title Copyright:  Air Bound © Shirogumi Inc. All Rights Reserved. Artwork and English Audio © 2016 Grindstone Entertainment Group, LLC. All Rights Reserved.
Type: Home Entertainment Premiere
Rating: PG for action/peril
Genre: Family
Closed Captioned: English
Subtitles: English and Spanish
Feature Run Time: 94 minutes
DVD Format: 16×9 Widescreen (2.35:1)
DVD Audio: English 5.1 Dolby Digital Audio
?
ReplyReply AllForwardEdit as new